| | |
| --- | --- |
| PHOTO: | Chris Ndirangu, Heri Homes Marketing Manager during an interview with Ajabu Media in Lowell, MA.PIC BY H.MAINA/AJABU MEDIA |
By:
HARRISON MAINA

Posted:
Oct,09-2017 12:55:19
BOSTON__For only a 20% deposit and several well-structured monthly payments, a Kenyan in the diaspora can now afford to own a dream home in the motherland though Heri Homes.

Owned by Leo Capital, Heri Homes is a company that has put all the work that goes into owning a home into a single package--from identifying an ideal location, conducting due diligence to guarantee no disputes on the land, constructing the house from start to finish and finally assisting with sourcing for rent paying tenants, through their own management company.

"Whether you are looking to own a house in Kenya for the purpose of living in it, renting out to others or even for resale at a premium, Heri homes has a plan and a well thought out package for everyone. We guarantee our properties are well researched thus no disputes at all on the ownership. We have easy, well-structured payment options ideal for any Kenyan in the Diaspora looking to own a home hassle free," said Chris Ndirangu, Heri Homes Marketing Manager during an interview with Ajabu Media in Lowell, MA.

Ndirangu, who is currently in the USA on a marketing tour, said that Heri Homes is a well-established, financially sound real estate company based in Nairobi that specializes on identifying the most ideal and marketable locations for home construction with a goal of maximizing the value to their customers.

To achieve this end, Heri Homes applies a 3 level strategy where a customer can purchase a home during different stages of construction.

"For customers who want to purchase the homes at the lowest cost possible, they can buy them at the off- plan stage. This is right after the plots have been purchased by the company, building plans drawn by architects and all approvals obtained but before construction begin. You identify your unit from the layout plans, it's allocated to you and that is the apartment you will get when construction is done," said Ndirangu, a married father of two.

He added that since buyers who purchase at the off plan stage get the units at the cheapest possible price, those who may decide to sell off the property after completion usually make a killing on the market price when the market value is always higher by a significant margin from the price they paid.

"Even if you decide to keep the home for your own use, you still end up having a home at a very low cost compared to those who purchase at later stages when more work has been put in the project and material prices have gone up," he told Ajabu Media.

The next level involves purchasing the home during the actual construction stage. At this point, the price of the unit you want to purchase will vary depending on the stage and level of completion. However, prices are still below the market price.

Finally, buyers who chose to make a go at the final stage end up buying a fully completed end product at the prevailing market rates.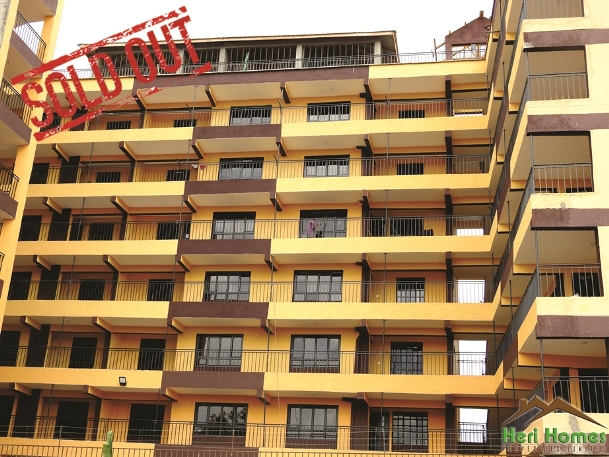 A sold out Heri Homes project in Kikuyu, Kenya. PIC BY COURTESY
"Naturally, they will end up paying a higher price than buyers who bought either at the off- plan or construction levels. It all depends on the preference of the buyer and how much money they have at their disposal. If you don't have too much money upfront, the best deal is making the purchase at the off-plan level since the down payment will be lower as compared to the other levels," said Ndirangu, adding that this was the reason he is currently on a Diaspora tour in order to give Kenyans across the USA a chance to sign up for their purchases at low prices.

He said the pace of economic development and especially construction in Kenya is breath taking, largely due to the expansion of the middle class and infrastructural expansion.

He said that many middle class Kenyans who now enjoy higher incomes are driving the demand for housing, thus his company has been doing a great deal in trying to satisfy the demand and bridging the housing gap.

However, Ndirangu acknowledged that with the rapid increase in housing construction, so has the pace by unscrupulous businessmen who rip off investors, both at home and in the diaspora gone up.

"A lot of conmen have come up in Kenya who will sell you a non-existent plot or house using fake documents. Others are selling the same property to multiple customers, leading to many disputes. This is especially hard for Kenyans in the diaspora who may not have the pleasure of time and money to spend in investigations and litigations in the Kenyan courts when they are cheated," he added.

As a result, Ndirangu said that Heri Homes first priority is to perform an exhaustive due diligence through several well respected lawyers to ensure the safety of the investment for their customers.

He assured Kenyans in the diaspora that no one will purchase a home with Heri Homes and end with disputed products.

"During our entire 8 years of existence, under the leadership of our CEO Mr Kimotho Kimani and COD Mr Joram Mwangi, Heri Homes has never had an issue of a disputed property with any single client," he assured.

He said that most of their properties are concentrated in urban areas especially within Nairobi and suburbs to ensure maximum satisfaction and returns to their customers.

Currently, the company is offering a 360 units development near the well-known Daystar University-Athi River, the first ever private University in Kenya.

"We have 360 units next to Daystar that we are currently selling in two phases. Phase one has 300 units of bed-sitters that have been fully sold as we speak. Phase two has 64 units of 1 bedroom each going at 2.6 million Kenya shillings. This is an ideal opportunity for Kenyans anywhere in the Diaspora. All you need is to put down a 30% deposit of Ksh 720,000 (In two months) followed by 15 monthly payments of Ksh121,333each thereafter and you get yourself a home," Ndirangu said.

Other upcoming housing projects Heri Homes is working on includes the Two Rivers/ Runda project and a 900 units project, a gated community along Kerarapong Drive in Karen (next to Shade Hotel) as well as others in Kikuyu and Kitisuru.

However, Ndirangu cautioned that while it is very convenient and affordable for customers to sign up and get their properties developed, it is important for them to complete their monthly instalments on time to avoid embarrassing repossession litigation mostly for bad defaulters.

He said that defaulters are always given an opportunity to make up their missed payments, failure to which a last effort is made to restructure their payment plan.

"We might also urge them to downgrade the investment to be reallocated to a cheaper home that they might afford, or even combine with someone else who might be going through a similar financial hardship."

"If all does not work, Ndirangu added, and then we fully refund a customer's funds if they had paid less than 20% of the full price. If they had paid over 20% of the money, then 10% is retained to take account of administrative costs the company has incurred in the unit development to date," he clarified.
Other projects include:
Kitisuru view apartments
Heri Kitisuru View Apartments
Kikuyu road Apartments
Heri Kikuyu Heights phase A
Heri Kikuyu Heights Phase B
Ruaka Project
Plots in Kisaju, Isinya & Nanyuki...
Ndirangu said that he will be making stops at various US cities to give Kenyans everywhere a chance to put their home purchase dreams into motion by singing up with Heri Homes project of their choice.

Among the cities he plans to visit include Atlanta, California, Seattle, Maryland / Washington, Dallas Texas as well as Boston.

"Other locations are being currently worked on and will be updated as soon as possible. We urge you to come and see what we have to offer," said the young entrepreneur who put together the diaspora tour with the help of Jane Johnson, a long time Kenyan resident of Lowell who purchased a home with the company then decided to inform other Kenyans in USA of the great deals.

"I met Chris when I sent him a Facebook message looking to buy a home after my cousin referred me to him. They sold me a great home in Kenya and I was amazed at the professional way they did it and the affordable price they offered. I then immediately decided to let my other friends and Kenyans in the diaspora know about it and benefit as well," said Jane during the interview with Ndirangu at her Lowell home.

Heri homes is the marketing spin-off of Leo Capital Holdings Ltd, a Kenyan company that also owns Premier Transporters (Trucks and Machinery), Ma-home Developers (that handles all their constructions), Premier Financial Consultants (that handled due diligence, Geo Survey and feasibility studies) as well as the New Heri Housing Cooperative Society, (a registered society to enable customers save towards their dream home).

For more information about Heri Homes, Contact Chris Ndirangu on
5712016934 (Voice) , 254 721 471 973 (whatsapp),
Email: chris@herihomesltd.com
Website:http://www.herihomes.co.ke/index.php
Facebook:https://www.facebook.com/HeriHomesKenya/
Upcoming Tour Dates and Venues:
1.Sep 29th to1st Oct -Atlanta, Georgia
2.Oct 6th to 7th-Dallas, Texas
3.Oct 14th/15th--Mugumo farm, Rio Vista, California
4.Seattle and Washington / Maryland (TBC)
5.Lowell Boston, MA--All through.
Source:
AJABU AFRICAN NEWS