| | |
| --- | --- |
| PHOTO: | Rev. Eliud Maina Mwangi the new senior pastor of the St. Johns Anglican church in Sutton near Worcester. AJABU MEDIA PIC/H.MAINA |
By:
Harison Maina

Posted:
Oct,24-2017 00:32:37
First published Thur, Oct 5, 2017. Updated Sat, Oct 10, 3.55pm



WORCESTER, Mass.__Rev. Eliud Maina Mwangi was installed as the new senior pastor of the St.Johns Anglican church in Sutton near Worcester to replace defrocked former pastor, Peter Kiama in a colorful ceremony led by Bishop Peter Roberts of the American Anglican Church, Order of St. Andrews.
 Bishop Roberts conducted the induction on behalf of Bishop John Herzog; leader of the New York based religious order.

The event saw over 400 Kenyans and religious leaders from Worcester and other cities in New England attend, led by retired founder of St. Johns church, Rev. Ekira Mureithi, assistant pastor and worship leader, Joshua Peterson as well as former assistant pastor and now pastor of the Good Shepherd church in Brockton, Rev. Cyrus Irungu.

Interestingly, the new pastor was originally arrived in Boston from Thika, Kenya early this year, ostensibly to take over as priest of the All Saints Kenyan Community church in Quincy at the invitation of the retiring Pastor Fredrick Thanji--a succession plan that sank the church into deep turmoil with the majority of members demanding constitutional reforms to devolve control power from the pastor to the church council.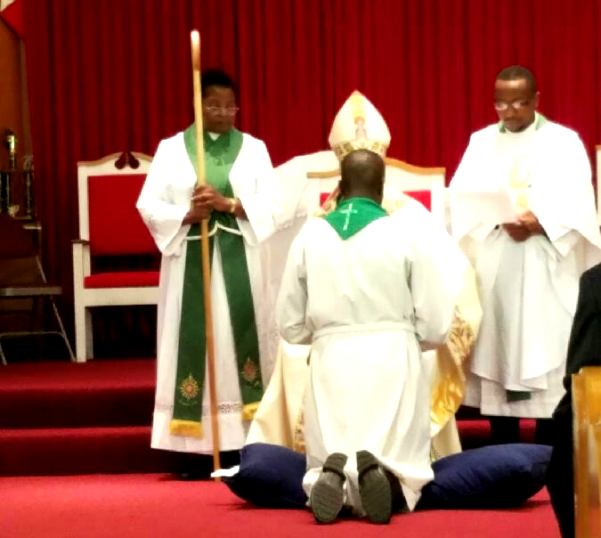 Rev. Ekira Mureiithi, founder and retired pastor of the St. John's Anglican church in Sutton, left, together with current assistant pastor, Joshua Peterson watch as Bishop Peter Roberts of the American Anglican Church, Order of St. Andrews, install Rev. Eliud Maina Mwangi as the new pastor of the largest Kenyan Community church in the Worcester, Massachusetts area. PIC BY COURTESY.
When Rev. Thanji allegedly resisted the reforms, the crisis moved to the Superior court in Needham--where a judge punted it right back to the Anglican Church of Kenya (ACK) together with its US affiliate, Anglican Church of North America (A.C.N.A) for resolution.

The court cited reluctance to interfere with the 1st Amendment of the US Constitution and Massachusetts State laws separating church from State, as well as improperly constituted suit since all the complainants had already resigned as officials in the church council.

As the dispute raged on, Rev. Thanji elevated pastor Eliud as his successor.

However, after barely 6 months of service, Eliud quit the position in unclear circumstances. He has now joined the St. John's Anglican church, the largest Kenyan church in the Worcester area--just emerging from its own storm that saw their pastor's license to preach revoked by the American Anglican Church--citing gross insubordination and moral misconduct.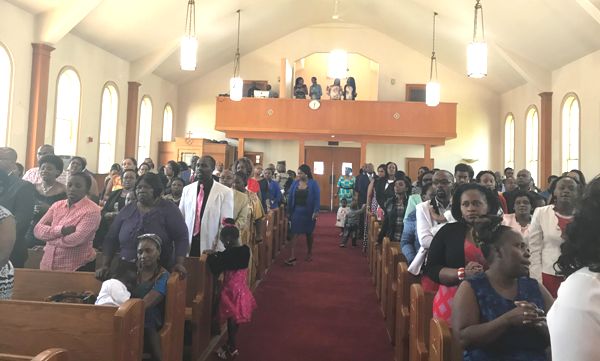 "What you have heard about this church is true. Our church went through a very difficult time for the last three months. We had difficult issues that we had to face on Sunday June 4th. We were unable to resolve them during a Special General Meeting we held the following Sunday, and so our senior pastor left," said Mary Kinyanjui, secretary to the Church Council while reading an official statement to a hushed congregation of more than 400.

She added that when the pastor left, the church had no choice but embark on a new mission to search for a new pastor, a process that attracted 6 applicants, out of whom only two met the criteria set.

"A new set of questionnaire was developed by the church council to be used as the final interview for the two finalists."

However, barely two days before the final interview was held, one of the candidates wrote a letter withdrawing his candidature for unspecified reasons, leaving pastor Mwangi as the sole finalist, the secretary said.
"Our bishop immediately said that the Lord has spoken, indicating pastor Eliud is the one. But we held the final interview regardless. The church council was satisfied with Pastor Eliud's responses on various topics important to our church and hence here we are today. He was chosen to be our new senior pastor," Kinjanjui added, causing a light moment within the congregation.
Kinyanjui also thanked pastor Eliud for accepting the position and promised the church council, the leaders of different ministries and the general congregation will give him all the support he needs to lead the church to spiritual nourishment.
She thanked the church members for stepping up to fill the leadership gaps that were left wide open when some former church council members and group leaders decided to follow the former pastor to a new church established in Worcester.

"We did not only loose our senior pastor, we also lost some council members, some group leaders and some members of the congregation. However, we have seen new leadership emerge in all areas of this church. We have seen new leadership emerge in all these areas and we thank God for what these new leaders are doing. We have new leaders in all groups, the ushering ministry, the Sunday school and more. We even have new blood in the kitchen ministry."

She praised the church warden, Evans Mwangi, for his leadership during the difficult the months after he was appointed by Bishop Herzog to lead the church as they searched for a new pastor.

Delivering a brief acceptance speech, pastor Eliud said that he was humbled to be chosen as the new priest of the church and that he looked forward to serving as best as he could with the teamwork from the church council and congregation.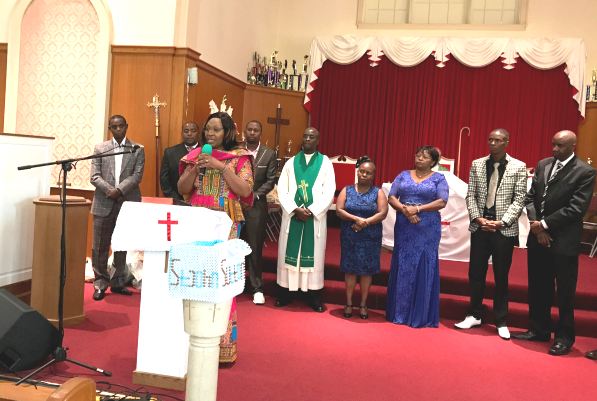 He thanked Bishop Roberts for his presence to represent bishop Herzog in welcoming him to the American Anglican Church fellowship.

"Bishop Peter, on behalf of Bishop John Herzog, it is my honor to be appointed as the pastor of the St. John's church. I can assure you that I will do my best to serve as God leads me."

He also thanked the church council and members of the entire church for giving him and his wife a warm welcome as their new spiritual leader.

"Even the children and young people I met here last Sunday told me Karibu (Welcome). We shall all serve together and the Lord will take us to the next level especially in this generation," he added.

Several Kenyans who accompanied the pastor and his wife, Leah Maina, praised him for the great work he has done in the South shore community of Kenyans.

They said that pastor Mwangi is a very humble person and has been able to heal some of the divisions existing among Christians of different churches who reside in the south shore.

Most Kenyans in the south shore live in the cities of Quincy, Weymouth, Brockton, Braintree, Attleboro, North Attleboro, Taunton as well as Providence, Rhode Island.
"Pastor Eliud is a humble, quiet man but very smart. He is able to bring together people of different walks of life as you have seen us here who came with him this morning. We are from different churches but have come together under the umbrella of Worship Beyond Ministries that he leads," said Treza Muchai Weymouth, who worships at the Glad Tidings Church after deserting the All Saints Community when dispute occured.
Muchai's sentiments were echoed by Peterl Waweru of Braintree who urged Eliud not to forget what he has started in the south shore, but rather bring the same move of God to the Worcester area.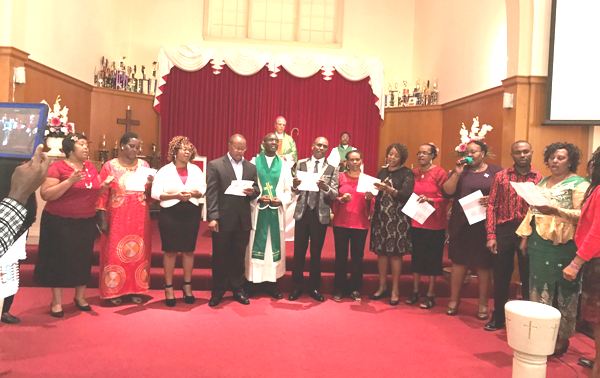 Leah Maina, wife of pastor Eliud Mwangi (with mic,4th right) leads visirors from the south shore in a worship song during the new pastor induction ceremony. AJBAU MEDIA PIC/H.MAINA.
Others who spoke included Rev. Ekira Mureithi, the retired founder of the St. Johns church, Evans Mwangi, the senior warden of the church, Rev. Cyrus Irungu, the former assistant pastor as well as Rosemary Ndungu, Lay Leader at the St. John's church.
"I know St. John's and have been involved since 2003. I felt like I was losing my child when all these problems were happening in our church. But now I am so happy to see that my children have stepped up and defended the church, taking over leadership roles. I am now at peace knowing St. John's will always be in good hands," said Rev. Mureithi during her emotional remarks.

Speaking to Ajabu Media during a telephone interview, the new pastor said that is looking forward to provide new leadership at the St. Johns church and in the Worship Beyond Ministries organization that is responsive to people's needs in order to influence positive change rather than being authoritative as has been the norm in the past.
"I feel honored to join the Kenyan community in Worcester through St. Johns church. I want to get close to the leadership there to learn and understand their needs," said pastor Eliud.

"It's a high time we as spiritual leaders understand today's world, the things we should borrow and adopt as opposed to the past. The world has now moved from authoritative based leadership, where you expect people to come to you with their needs, to influence based, where you reach out to many out there.We need to understand what the church needs and the needs of the community. That is why Christ was able to reach out and thus able to influence many people and brought them into Christianity," he added.
Pastor Eliud declined to disclose the reasons for his abrupt departure from the All Saints church where he served barely for 6 months.
"I have promised myself to forget about the unfortunate circumstances. Everyone learns through their own experiences. People may say what they want to say about it but it's only me and God who can tell the truth," he told Ajabu Media.

However, he wished the All Saints church well in their endeavors to serve the Lord.

"I wish them all the best. I will help them in any way I can if called upon as we continue to serve in our own capacities," he promised.

Speaking form his office in New York, Bishop Herzog said that he was extremely happy that the St. John's church now has found peace and is thriving once again.

Pastor Mwangi hails from Thika, central Kenya where he served at the ACK Mugumoini church before his relocation to the USA last year. He attended the St. Paul's Theological University in Limuru Kenya where he graduated with a Bachelors degree in Divinity in 2009.

St. John's Church is located at 29 Main Street, Sutton, MA 01590.
Source:
AJABU AFRICAN NEWS